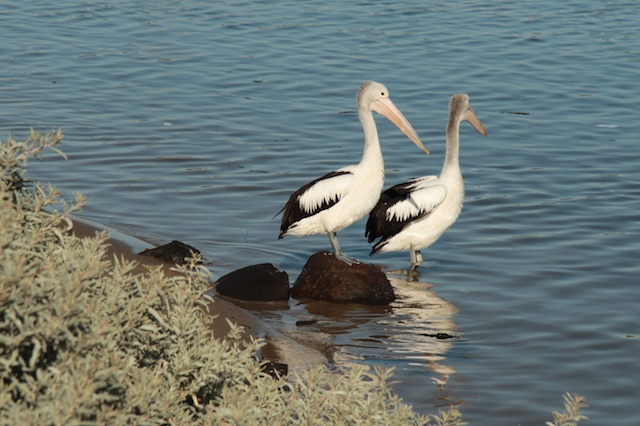 Species
Status
Stubble Quail
Very Occasional Visitor
Magpie Goose
Very Occasional Visitor
*Musk Duck
Past Visitor
Black Swan
Frequent Visitor/breed
Australian Shelduck
Very Occasional Visitor
Australian Wood Duck
Very Occasional Visitor
Pink-eared Duck
Very Occasional Visitor
Australasian Shoveler
Occasional Visitor
Grey Teal
Frequent Visitor
Chestnut Teal
Common Resident/breed
Pacific Black Duck
Frequent Visitor/breed
Hardhead
Frequent Visitor
Blue-billed Duck
Very Occasional Visitor
Australasian Grebe
Frequent Visitor/breed
Hoary-headed Grebe
Frequent Visitor
Great Crested Grebe
Past Visitor
Rock Dove
Frequent Visitor
Spotted Dove
Common Resident
Diamond Dove
Very Occasional Visitor
Common Bronzewing
Very Occasional Visitor
Crested Pigeon
Frequent Visitor
*Australasian Gannet
Past Visitor
Australasian Darter
Occasional Visitor
Little Pied Cormorant
Frequent Visitor
*Great Cormorant
Frequent Visitor
Little Black Cormorant
Frequent Visitor
*Pied Cormorant
Occasional Visitor
Australian Pelican
Occasional Visitor
Australasian Bittern
Past Visitor
White-necked Heron
Very Occasional Visitor
Eastern Great Egret
Frequent Visitor
Intermediate Egret
Very Occasional Visitor
Cattle Egret
Very Occasional Visitor
Little Egret
Very Occasional Visitor
White-faced Heron
Frequent Visitor
Nankeen Night Heron
Very Occasional Visitor
Glossy Ibis
Past Visitor
Australian White Ibis
Occasional Visitor
Straw-necked Ibis
Occasional Visitor
Royal Spoonbill
Occasional Visitor
Yellow-billed Spoonbill
Very Occasional Visitor
Black-shouldered Kite
Occasional Visitor
Whistling Kite
Very Occasional Visitor
Black Kite
Very Occasional Visitor
Brown Goshawk
Occasional Visitor
Collared Sparrowhawk
Very Occasional Visitor
Swamp Harrier
Very Occasional Visitor
Little Eagle
Very Occasional Visitor
Nankeen Kestrel
Occasional Visitor
Brown Falcon
Occasional Visitor
Australian Hobby
Occasional Visitor
Black Falcon
Very Occasional Visitor
Peregrine Falcon
Occasional Visitor
Purple Swamphen
Resident/breed
Lewin's Rail
Past Visitor
Buff-banded Rail
Frequent Visitor/breed
Baillon's Crake
Very Occasional Visitor
Spotted Crake
Very Occasional Visitor
Spotless Crake
Very Occasional Visitor
Black-tailed Native-hen
Very Occasional Visitor
Dusky Moorhen
Common Resident/breed
Eurasian Coot
Common Resident/breed
*Aust. Pied Oyster catcher
Very Occasional Visitor
*Sooty Oyster catcher
Very Occasional Visitor
Black-winged Stilt
Frequent/Seasonal Visitor/breed
Red-necked avocet
Past Visitor
Red-cappped Plover
Past Visitor
Black-fronted Dotterel
Resident/breed
Red-kneed Dotterel
Frequent Visitor
Masked Lapwing
Resident
Latham's Snipe
Very Occasional Visitor
*Common Sandpiper
Past Visitor
*Common greenshank
Past Visitor
Ruff
Past Visitor
Red-necked Stint
Very Occasional Visitor
*Sharp-tailed Sandpiper
Past Visitor
Painted Button-quail
Very Occasional Visitor
*Caspian Tern
Past Visitor
Whiskered Tern
Very Occasional Visitor
*Crested Tern
Occasional Visitor
*Pacific Gull
Occasional Visitor
Silver Gull
Common Visitor
Total number of species, including land based birds = 162
Prepared by Andrew McCutcheon and Westgate Biodiversity: Bili Nursery & Landcare,
Last updated 5 March 2020
Notes:
* Species seen at/along Yarra River only. Species in bold recorded since bird count surveys commenced in March 2007
Bird names and taxonomic order in accordance with the Australian Checklist, Christidis L. & Boles W.E. (2008).